It's Shaadi Season Ya'll.
Shaadi season has officially arrived, friends.
And without fail, our Insta feeds are all starting to be full of shaadi clothes, decorated wedding halls and intensely choreographed wedding dances.
But you GUYS, even though we aren't really in the thick of it and a hundred weddings haven't happened yet, we think we just found the cutest bride of the season.
Ayesha and Hassan's mehndi dances were probably great, but we couldn't get enough of the adorable dancing bride.
SO CUTE.
Ayesha, the bride, has gone viral since a video of her at her Mehndi has made its way all over social media. While watching all the dances, she can't help but dance along with her friends and family, in tune with all of the steps.
High-key reminded us of this moment.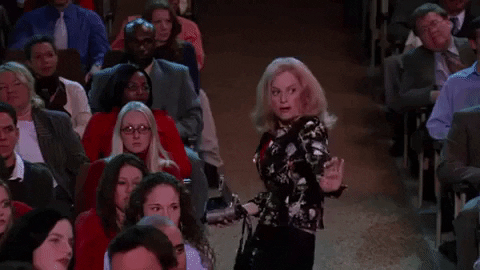 But UGH how cute is she! And lmao, the way she blatantly ignores her hubs is so cute and funny. For us. Maybe not so much for him but it was so sweet how into it she was.
Ayesha spoke to MangoBaaz about how she met her husband and the newfound fame that she suddenly has.
"My husband's sister and I have a mutual friend and basically they got us together. He is a university lecturer in Dubai and he was visiting Pakistan in September 2016. He came to our place that time and met me and my family. He took my number and we started talking after that."
"He bought a diamond ring for me and proposed to me on video call by going on his knees. At first, I couldn't react…I was so emotional and then I gathered myself and said yes", says Ayesha
When it came to the video of her dancing, Ayesha said, "At first I didn't realize the extent of the fame coming with a viral video. Actually, we didn't know that the videographer was also making our video as they were mainly focused on my cousins who were dancing on the stage and me and Hasan were just watching the dance. I choreographed the dance so was just reacting and enjoying."
"Yesterday both me and Hasan started getting messages about the video is viral. Some of the negative comments did bother me a little but I don't care anymore as the majority of the comments are quite positive."
It's pretty much every bride on the day of their Mehndi. After going through dance practices and dholki's and making sure everyone knows the steps to every dance, it's like watching a proud coach watching their team play and win in the GAME that is Shaadi season.
Everyone who's seen the video so far has fallen in love with Ayesha's dance moves and we completely agree because so have we.
Everyone loves a smiling and happy bride and looks like a dancing one is even better. SO CUTE. What do you think of dancing at your own wedding? Let us know in the comments below! Love you.
---
Cover photo source: TheWeddingStoryFilms Via Instagram