Sad? Happy? Bored? Food is the answer to everything. Here are 11 comfort food recipes that will help you get through anything in your life – and leave you feeling super satisfied.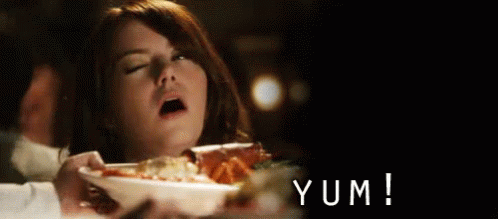 1. Mac and Cheese
Nothing says comfort like mac and cheese. Here's how to make it:
4 cups of cooked 

elbow macaroni

8

 

tablespoons

 butter

1 

cup

 

milk

1 cup cream
2 tablespoons all-purpose flour

2

 

cups

 

shredded cheddar cheese

1/4

 

teaspoon

 salt

1/4

 

teaspoon

 

black pepper

1/2 cup breadcrumbs (optional)
2 tablespoons olive oil
Preheat oven to 200°C. Melt butter in a large skillet over medium heat, whisk in flour until smooth. Cook, whisking constantly for one minute. Whisk in milk and cream and cook, whisking constantly, until thick. Whisk in salt, pepper, 1 cup of the shredded cheese until smooth. Stir in cooked macaroni. Spoon the mixture into a greased baking dish and top with remaining cheese and breadcrumbs and drizzle with olive oil. Bake at 200°C for 20 minutes or until golden and bubbly.
2. Chocolate Chip Cookies
source: hotchocolatehits.com
2 1/4 cups 

all-purpose flour

1 teaspoon 

salt

1 cup 

butter, softened

3/4 cup 

granulated sugar

3/4 cup 

packed brown sugar

1 teaspoon 

baking soda

1 teaspoon 

vanilla extract

2 

large eggs

2 cups s

emi-sweet chocolate chips

1 cup 

chopped nuts (optional)
Beat the butter, granulated sugar, brown sugar and vanilla extract in large bowl until creamy. Add eggs, one at a time, beating well. In a separate bowl, combine together the flour, baking soda, and salt in small bowl. Gradually beat in flour mixture into the wet mixture. Stir in the chocolate chips and nuts. Spoon one rounded tablespoon two inches apart onto an ungreased baking sheet. Bake for 10 minutes or until golden brown.
3. Nihari
1⁄2 

kg beef

salt

1 

teaspoon pepper

1⁄2 

teaspoon turmeric powder

1 

teaspoon coriander powder

4 

tablespoons oil

3 

tablespoons flour

1 

teaspoon ginger paste

5 cups water
Spice Mix
2 

teaspoons fennel seeds

1⁄2 

teaspoon whole black peppercorn

1⁄2 

teaspoon cumin seed

2 

small cardamom pods, seeds of

10 

cloves

2 

whole black cardamom pods

1 

cinnamon stick

1 

bay leaf

1⁄4 

teaspoon nutmeg

2 

teaspoons coriander seeds
Heat oil in an iron pot. Add the meat and start frying it. Add salt, chili powder, turmeric, coriander powder and ginger paste. Mix well and half a cup water. Dissolve flour in half a cup of water and add this to the meat and bring to boil. Grind all the spices until they are very fine and add them to the meat. Add 3-4 cups of water, cover, and leave to tenderize on a low flame. Cook until the meat has softened (4 hours). In a separate pan, fry the onion slices until golden brown and add to the Nihari. Also garnish with fresh coriander, ginger, and green chilies.
4. Fluffy Mashed Potatoes
8 – 10 medium potatoes, peeled, cut into quarters

1 teaspoon salt

2 tablespoons butter

Salt

Black pepper

1/4 cup hot milk
Place potatoes in large saucepan and add enough water to cover them along with 3/4 teaspoon of the salt. Bring to a boil. Reduce heat to medium, cover loosely, and cook for 15 to 20 minutes or until potatoes break apart easily. Drain well. Return potatoes to saucepan; shake saucepan gently over low heat for 1 to 2 minutes to evaporate any excess moisture. Mash potatoes with potato masher until no lumps remain. Add butter, pepper, and remaining 1/4 teaspoon salt. Whisk until smooth, gradually adding the milk to make potatoes smooth and creamy.
5. Grilled Cheese
2 slices of thick bread

2 tablespoons mayonnaise

1 tablespoon butter

2 slices American cheese

2 slices of cheddar cheese

Black pepper
Spread mayonnaise over top side of each slice of bread. Heat a small skillet and add in half of the butter. Place one slice of bread, mayonnaise side down in the skillet, top with the cheese and black pepper. Place the second slice of bread on top of the cheese, mayonnaise side up. When the underside is golden brown, turn the sandwich and add remaining butter to skillet. Press down on the sandwich to encourage even browning and to help melt cheese. Take off the heat and serve.
6. Chocolate Cake
2 cups all-purpose flour
1 teaspoon instant coffee powder
2 cups sugar
2 teaspoons baking powder
1½ teaspoons baking soda
¾ cup unsweetened cocoa powder
1 teaspoon salt
1½ cup milk
½ cup vegetable oil
2 eggs
2 teaspoons vanilla extract
Add flour, sugar, cocoa powder, baking powder, baking soda, salt, and instant coffee powder a large bowl or the bowl of a stand mixer. Whisk through to combine and stir in flour mixture until combined well. Add milk, vegetable oil, eggs, and vanilla to flour mixture and mix together until well combined. Distribute cake batter evenly into two greased cake pans. Bake for 30-35 minutes at 200°C, until a toothpick inserted in the center comes out clean.
7. Aloo Paratha
1½ cup whole wheat flour
Pinch of salt
1 cup water
oil
For the filling:
2 cups of boiled, mashed potatoes
1 teaspoon coriander leaves
1 tablespoon ginger garlic paste
1 onion
2 green chilies
½ teaspoon turmeric
1 teaspoon red powder
½ teaspoon lime juice
Add the flour, water, salt and 1 tablespoon of oil in a bowl and combine until a soft dough forms.  Divide the dough into two balls.  Chop the onions, green chilies, and the coriander leaves. Add the rest of the ingredients to the mashed potatoes and mix well. Take the ball of dough, flatten it on the palm. Stuff the filling in the dough and roll into balls. With a rolling pin, flatten the balls into 1/2″ thick round parathas. Grease a pan with a little oil and heat on a medium flame. Cook until both sides are golden brown.
8. 
Fettuccine Alfredo
1⁄2 

cup butter

2 cups cream

1 

teaspoon garlic powder

Salt

Black pepper

2⁄3 

cup grated parmesan cheese 

4 cups of cooked fettuccine
In a medium saucepan, melt butter. When butter is melted, add add heavy cream, garlic powder, salt, and pepper. Simmer for 15-20 minutes over low heat, stirring constantly. Remove from heat and stir in parmesan. Serve over hot fettuccine noodles.
9. Cinnamon Rolls
1/4

 

cup

 

warm water

1

 tablespoon 

active dry yeast

3/4

 

cup

buttermilk

2

 eggs

1/2

 

cup

 

+ 1/2 tsp granulated sugar

1

 

teaspoon

 

salt

1/2

 

tsp

 

vanilla extract

6

 

tablespoon

 butter,

 melted

4

 

cups

bread flour
Filling:
6

 

tablespoon 

unsalted butter,

 softened

1 

cup

packed brown sugar

2

 tablespoon

 

cinnamon
Icing
1/4

 

cup

unsalted butter,

 

softened

1/2

 

tsp

 

vanilla extract

1 1/2

 

cups

 

powdered sugar
Brush a 9-inch square baking dish with 2 tablespoons melted butter. Whisk flour, 2 tablespoons white sugar, baking powder, and salt together in a large bowl. Work 3 tablespoons softened butter into flour mixture using your hands. Beat milk and egg together in another bowl; pour into flour-butter mixture and stir a soft dough forms. Turn dough out onto a floured work surface and roll dough into a 1/4-inch thick rectangle. Brush surface of dough with 2 tablespoons melted butter, followed by the sugar, brown sugar, and cinnamon on top of the butter. Roll dough around filling to form a log; cut log into one inch rolls and place rolls in the prepared baking dish. Bake at 200°C for 25 minutes. Beat powdered sugar, softened butter, and vanilla extract together in a bowl until frosting is smooth. Top hot cinnamon rolls with the frosting. 
10. Loaded Nacho Fries
1

 

bag frozen fries

2 cups 

ground beef

1

 

onion,

 

diced

2

 

bell peppers, 

chopped

taco seasoning packet

1⁄2 cup jalapeños
11⁄2 

cups

 

cheddar cheese

2 tomatoes,

 

diced

4 green onions,

 

diced
Lay frozen fries on a baking sheet and bake at 200°C until for 15 minutes. While fries are cooking, brown ground beef in a pan with oil. Drain fat. Add diced onion and peppers and cook until browned. Add taco seasoning and water, mix well. Remove fries from oven when just under crispy. Layer taco mixture over fries. Sprinkle with cheese and jalapeños. Return to oven, cook until cheese is melted. Top with tomatoes and green onions, serve.
11. Butter Chicken
1/2 cup plain yogurt

 2 garlic cloves, crushed

 1 large piece of ginger, peeled, finely grated

 2 teaspoons ground cumin

 2 teaspoons ground coriander

 1 teaspoon garam masala

 1/4 teaspoon chili powder

 4 chicken thigh fillets, trimmed, cut into pieces

 1 tablespoon vegetable oil

 1/2 cup butter

 1 brown onion, halved, thickly sliced

 1 can tomato puree

 1/2 cup chicken stock

 1/2 cup thickened cream
Heat oil and butter in an iron saucepan over medium-high heat. Add  the chopped onion. Cook for 3 to 4 minutes or until softened, add chicken mixture to pan. Cook, stirring, for 5 minutes or until chicken just starts to change color. Add tomato puree and stock. Cover and bring to the boil, and reduce heat to low. Simmer for 10 minutes or until chicken is tender and mixture has thickened slightly. Stir in cream and simmer until well combined. Serve with steamed rice and coriander leaves.
Which recipe will you be trying?