Who doesn't love comedy shows? They're a great way to get away from the stress of the day and just LAUGH. Especially in Pakistan, when sometimes things can get a bit dull, comedy shows are a way to remind us to smile. Pakistan has had a long history of comedy shows, but recently, the trajectory of the past doesn't seem to translate well into the future of Pakistani TV. But, what went wrong?
Comedy programs started off with a bang! King among these was 'Fifty Fifty'. 
'Fifty Fifty', on the surface, was funny and lighthearted, however within the seams of every joke they made, they had a deeper message. The show became synonymous with social commentary and political backlash but the genius of the show, as is with any comedic program, is that they layered their critique with hansi mazaak. 'Fifty Fifty' was quite literally made up of the dream team. Anwar Maqsood wrote the skits, and Bushra Ansari, Zeba Shehnaz, and Ismail Tara acted them out brilliantly.
The show was everything the country needed, especially during the Zia years.
During the 'Fifty Fifty' years we also had shows with Angan Tehra wow audiences across the nation. There was clearly an influx of good, comedic actors coming into the industry. This upward trend went on all the way up to the early 2000s.
In the late 1990s 'Family Front' was a favorite. Saba Hamid, Samina Ahmed and Naseem Vicky shone on TV screens. A hilarious script and a brilliant script brought to life the story of a family so foolish that it was hard not to laugh at them.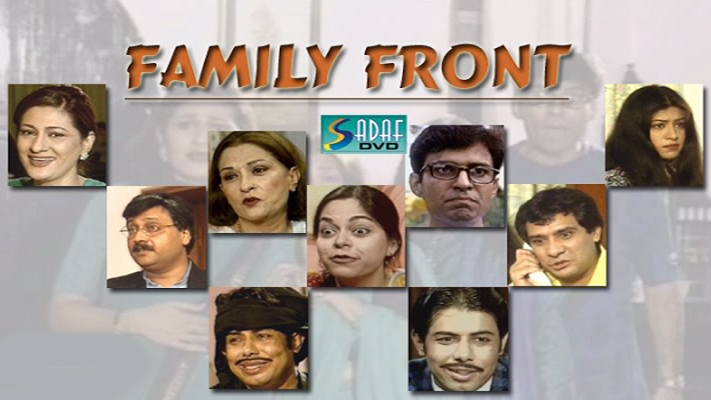 It was in the early 2000s when Moin Akhter and Anwar Maqsood would get together on TV and perform their famous 'Loose Talk' for us. Some of their episodes purely humorous, while others were slightly shaded by the political.
Still, those amazing punch lines and their brilliant chemistry made their way to our hearts and became favorites for years to come.  
It was after this GREAT-ness that a sort of lull came into effect. The true beauty of the comedy shows of the past was that they knew where to end a joke. The programs that started coming out towards the mid-2000s were just not the best. Their jokes were forced and their performances exaggerated. These shows were just full of slapstick humor, and unlike 'Fifty Fifty' or 'Family Front', there didn't hold any substance. Yes, they might be funny for the first 2 episodes, but after that, your mind would just go numb.
Some shows would start off great, but soon, they would run out of material and bam it starts getting outstretched and boring. A great example of this is 'bulbulay'. Bulbulay started off amazingly. Nabeel and Ayesha Omer really carried the show well, and their humor was actually funny. Also, how can we talk about this show and NOT mention Hina Dilpazeer! Her performance as Momo won hearts in an instant. Sadly, this show too was plagued by the same problem. They just didn't know where to end their high.
All their jokes got worse, more forced and quite honestly, sloppy. 
Then soon after this, comedy talk shows began where comedians would come on stage and would find their source of humor is belittling one another or calling each other names etc. It would honestly just be unsettling to watch, all these people on national television telling the worst jokes and expecting laughter out of it.
It was during this period that our media industry really boomed and of course, with that came a fight for ratings and viewership. Channels clearly didn't care about the quality of the content they were pushing, rather they cared about the quantity they were producing. The country was going through a lot then, with terrorism and political turmoil, there was a real need for laughter, however, what everyone got was just a desperate attempt by TV corporations to capture that market.
This really stabbed the life out of what was once great Pakistani comedy. 
Recently there was been a resurgence of comedy with shows like 'Hasb-e-Haal' and 'Mazaaqraat'. These shows don't cross lines and generally have pretty family-appropriate humor. Most of the hosts of these shows are experienced stage actors, so they know how to improvise and play to the tune of the interviews they're doing.
Even before these shows came on, Geo TV made an incredibly successful series called the 'Ki Ayegi Baraat' series. The comedy was great (yes, it had its moments of being VERY over the top) but it also had a strong storyline and strong characters. More so, it created a favorite character, a character that made everyone smile- Saima Chaudhry, or shall I say Choii. This show was just done so brilliantly. It was funny, it was impactful and it told its story well. There's a reason why shows like this, 'Fifty Fifty' and 'Aangan Tehra' are remembered to this day- they weren't just ALL laughs, they were constructed brilliantly in terms of their story. They had strong characters and an exceptional cast backing it up with equally talented writers. In the fight for ratings, people have stopped thinking about the quality of comedy.
These are just a handful of examples of 'good' family comedy shows that have made a comeback. There is yet more to come. Pakistan was full of amazing shows. We've clearly shown our strength when it comes to the usual TV dramas and its high time we prove that we still have it in us to make the quality comedy.