It's finally that time of the year again, folks! After a year long hiatus, Coke Studio is set to unveil the latest season line-up and spoiler alert, it's 😍😍😍. From blessing our timelines with the very groovy Tinak Dhin to the mellifluous oasis sprouting out classics likes of Esakhelvi's "Sab Maya Hai" and Amir Zaki's last hoorah "Naina Moray", the cherished show is back with a bang – this time with 35+ artists under their belt and a true promise of diversity.
Here's everything you need to know about the latest season of Coke Studio
With Strings passing on the baton to the very experienced hands of Ali Hamza and Zohaib Kazi, we all were expecting things to shake up a little but the magnitude of this claim fully dawned on us yesterday, when we first received details of what's in store.
Opening with a tear-jerker, as always, Coke studio's "Lazim hay ke hum bhi dekheingay" anthem is bound to give anyone goosebumps.
Hoping to spread the message of peace, unity and hope through the iconic poetry of the late poet Faiz Ahmed Faiz, the anthem includes 70 artists from the season from all over Pakistan – you seriously cannot get any more representative than that!
This cycle has already been a year of many experiments, especially with the flavor of Coke Studio Explorer already running its course.
Have you also not been able to get "Pareek" out of your head? Same, tbh. The artists from Coke Studio Explorer will be making a regular appearance through out the course of the new season.
International EDM duo Krewella consisting of Pakistani-American sisters will officially be bringing a touch of EDM to Coke Studio
From heavy rock and dance influences, Jahan and Yasmine Yousaf burst onto the scene as female pioneers of a male-dominated industry of EDM music. Now, they regularly perform at music festivals across the USA and even had the honor of having their debut album 'Get Wet' featured in the Top 10 of the Billboard Hot 200.
This season will also be the launching pad for the first transgender singers on the show: Naghma and Lucky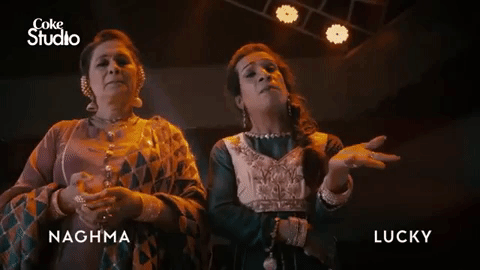 The two have had a long association with the performing arts. Eldest of seven siblings, Naghma has worked in the world of theatre for 25 years and played the role of a lead actress in more than 20 dramas.
Ahad Raza Mir will be letting out his whimsical side after already conquering Pakistani drama scene (and our hearts)
After getting his first guitar at fourteen, Ahad just never looked back. With formal training in Opera and Jazz, the appearance on Coke Studio Season 11 will mark his first commercial release as a singer.
Sounds of Kolachi
Inspired by the ornate, classical and jazz harmony and eastern raag based melodic structures, the band is known to fuse these sounds with original Sufi poetry making sure that no two live performances sound alike so here's to hoping they'll do the same on Coke Studio stage.
Former band member Natasha Baig will be performing in her own right after sharing the stage with mainstream acts like Mai Dhai.
Khumariyaan
Creating world music using Rabab, Peshawari Sehtar, guitars and percussion – Khumariyaan have been performing all over Pakistan and abroad for over a decade and now, finally, on your screens.
Lyari Underground
With a talent for wordplay that can be as head-spinning as it is reality, the knack of rhymes and trickery by the rap crew – Lyari UnderGround (L.U.G) is blood rushing, knuckle thumping, fresher than fresh new act and we're here for it.
Riaz Qadri and Ghulam Qadri
Remember the sufi hymn 'Tere ishq nachaya kar thayyan thayyan thayyan'? Yep.
Hasan Jahangir
The man behind "Hava Hava" and "Shaadi Na Karna Yaaron" returns with a fresh new outlook
Mughal-E-Funk
A contemporary instrumental fusion/funk band, Mughal-e- Funk is a combination of ambient music, groovy melodies and incredibly inventive percussion and bass parts.
With Pashto singer Zarsanga and rapper Young Desi also being included in the line up, Ali Hamza and Zohaib ensure that diversity is fully embodied in the new season — not to forget, the paradigm shift of genres and nine languages incorporated.
Some returning favorites include:
Abida Parveen AKA Queen
Ali Sethi
Attaullah Esakhelvi
Momina Mustehsan
Ali Azmat
Abrar Ul Haq
Aima Baig
Sanwal Esakhelvi
Shuja Haider
The Sketches
Haniya Aslam from the dynamic Zeb & Haniya
Asim Azhar
Jimmy Khan
Gul Panrra
Humaira Arshad
This season will also be showcasing a whole new range of sounds from Chand Tara Orchestra to Fareed Ayaz, Abu Muhammad Qawwal & Brothers representing the sixth generation of the very first qawaals in the world.
Are you as excited for Coke Studio 11 as we are? Let us know in the comments section below.
---
This post has been sponsored by Coke Studio Pakistan.