GUYS. Coke Studio 11 is about to grace our screens real soon. I mean we all knew that. We were even following the absolute brilliance that was Coke Studio Explorer. But they JUST announced the line-up too and OMG, it's sheer brilliance. I'm high key freaking out while writing this out of excitement.
I mean…JUST LOOK AT THIS.
'One Nation, One Spirit, One Sound" – celebrating unity in diversity!
Coke Studio proudly presents: a song FOR the people of Pakistan, BY the people of Pakistan!'#HumDekhenge #WeAreOne #CokeStudio11@mzohaibkazi @hamzasays https://t.co/Bo3fJmrLeM

— Coke Studio (@cokestudio) July 22, 2018
Now we know the line-up features some AMAZING talents. Queen Abida Parveen will be returning.
Ali Sethi will be seen again, too. 
Ali Azmat will be there.
Abrar-Ul-Haq, too.
BUT. This season will also include transgender singers. That means, there's actually going to be a mainstream representation of the transgender community, on a platform this big.
#CokeStudio11 will be the launching pad for the first transgender singers on the show: Naghma and Luckyhttps://t.co/dts3C9mktE pic.twitter.com/86adNucjvT

— MangoBaaz (@mangobaaz) July 22, 2018
Presenting, Naghma and Lucky. SLAY, KWEENS.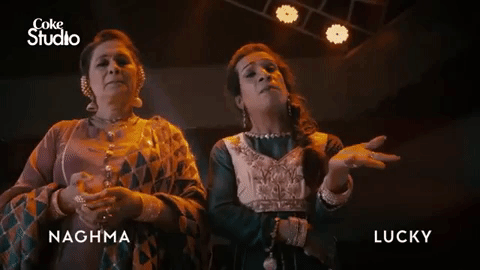 As soon as the line-up was announced, people took to social media to express their delight.
Probably the bestest possible artists lineup ever !!
Can't wait .

— Affan (@affanfilms) July 22, 2018
Finally!!Good to see some new artists and some legends are back😘😍

— Baneen Raza (@Beerazashah) July 22, 2018
People LOVE the message of unity.
Best way to share a message of unity, thanks @cokestudio for a meaningful presentation 🙂 #HumDekhenge #CokeStudio11

— Oh, Lady Mania! (@OhLadyMania) July 22, 2018
BUT, above all else, Pakistanis are over the moon about the fact that the oft-neglected transgender community is being represented.
Just look at how happy people are.
This made me happy 💚
BRAVO @cokestudio 👏👏👏 https://t.co/PINxwf3BRR

— Ayesha-عائیشہ🇵🇰 (@Ayesha_ZaYain) July 22, 2018
What a great line up (minus a few, ofc)… And it's so lovely to see trans women being included in coke studio! https://t.co/ZEIRnfdUp0

— Faran Rafi (@faranrafi) July 22, 2018
This is appreciation done right, you know?
The Trans community has been a gateway for our culture since hundreds of years, and it's great to see @cokestudio providing them the stage so they can showcase their music. #CokeStudio11 pic.twitter.com/hvqSMIpL2n

— M. (@Mahnoorizhere) July 22, 2018
People are thanking the team behind this brilliant season. 
Coke Studio Pakistan Season 11 will be featuring a transgender duo!!! 🇵🇰 Meet Naghma and Lucky representing their whole community. I'm sure you'll experience the depth of their lives in their voices! #CokeStudio11 #Pakistan #TransgenderCommunity pic.twitter.com/dmDgkAzYW6

— Komal Shahid (@ArmedWithWords) July 22, 2018
People are overjoyed…
Coke studio will be having Transgender as well as many Pakhtun singers including Khumaryan,Zarsanga,Gul Panrah
Young talent included in #CokeStudio11

— Safi Baba (@Bailtoon) July 22, 2018
…and emotional.
The coke studio 11 promo has children, trans women and so many Qawali groups from different parts of Pakistan i'm too happy pic.twitter.com/Ygkzrnj5WT

— manahil (@manahiilll) July 22, 2018
It's a big moment.
We have neglected Trans for way too long. Coke Studio the first ever platform to feature a song sung by Transgender. #CokeStudio11

— Highlife Shenanigans (@GlitterSmitter5) July 22, 2018
This TRULY is positivity and joy.
#CokeStudio11 gave a platform to transgender singers… This is positivity… This is pure joy… ❤❤😭❤https://t.co/Sf22mBNXfu

— Fatima Hassan (@Fatima_Hassan17) July 22, 2018
Finally, we get to see the white in our flag get a voice on a huge platform.
Zohaib Kazi said that this year's Coke Studio would represent the white in the flag 🇵🇰 and that has certainly been proved today. Coke Studio's first transgender performers Naghma and Lucky will prove that music cannot be confined to a specific gender 🙌🏼#CokeStudio11

— Hand of the Queen (@saroshovic) July 22, 2018
Clearly, this line-up of some of the most brilliant talent Pakistan has to offer has taken the internet by storm. What do you think of this? Share your thoughts in the comments below.
---
Cover image via Coke Studio