When it comes to your best friend, everyone knows there are a million and one things you wish you could say to them. But at the risk of sounding too mean or too cheesy for that matter, certain things are left unsaid.
SO, we thought we would make it easy on you.
Here are all the things you wish you could say to your best friend but would never admit out loud because well, whatever:
1. You're the worst influence on me.
You. Are.Literally.The.Worst.
2. You always get me in trouble.
SEVENTH GRADE, I took the blame for YOU cheating off of MY paper. MERA PAPER THA. Matlab!!?!?!
3. You never take me seriously.
Bhai, SUPPORTIVE KABHI BANO.
4. You never listen.
I'm always right and you know it. But fine, jao uss stupid larkay keh paas. 
5. You always steal my food.
GET. YOUR.OWN.FRIES.
6. You always feed me.
Thank you for getting me fries…
7. You know how to act around me when I'm mad.
…By getting me fries…
8. You always make me feel better when I'm sad.
…fries…But you always know just what to say.
9. You calm me down when I'm freaking out.
Somehow one conversation with you and I completely forget about what I was so worried about in the first place.
10. You are extremely brave.
You always face life with sheer fearlessness.
11. You are always, ALWAYS there for me.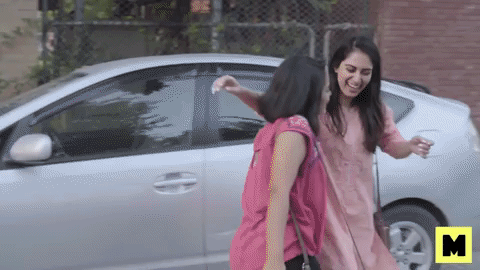 No matter what may be going on in your life, no matter how busy you are – you are constantly there for me. No exceptions.
12. You inspire me.
I am so lucky to have you in my life, you inspire to me be a better human everyday.
13. You encourage me.
When I'm lost, discouraged and completely defeated – you know just how to bring me up to my feet again.
14. You are my family.
You are the sibling I never could have imagined my life without.
15. You are my love.
You are so so so loved.
Too much cheesiness? Go back to number 1.
Wish you could say any of these things to your best friend? Anything else you want to add? Paisay waapis denay hai? Want to tell them sorry for something you did in the first grade? Want to tell them you love them? Share this article with them let us know what happens! Love you. And our best friends.