After months and months of waiting for Baskin Robbins, the franchise officially arrived in Pakistan yesterday at the Packages Mall in Lahore.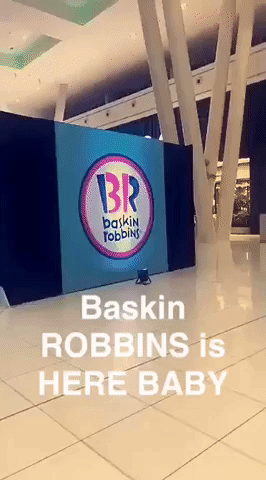 We got to go to the launch and take a sneak peek at the international brand's newest Lahore spot and it looked PRETTY SWEET.
Get it?
The event launch was full of people, balloons and happy tummies
People dressed up to show up for the launch
The event was LEGIT
Oh and of course, they're offering all 31 of their most delicious flavors
I'm talking:
Pralines 'N Cream
Jamoca
Mint Chocolate Chip
Very Berry Strawberry
Almond Fudge
To name just a few (delicious ones)
Also get this, the management had promised the first 31 people at the event a year's worth of free ice cream
And they ACTUALLY got it!
*Crying for the 32nd person that arrived at the event*
People all over the country have been anticipating the launch for months and now that it's finally here, things are getting pretty crazy:
This is the scene outside of their first shop in Pakistan
Look. At. This
All of the delicious flavors are now available at Packages Mall on Walton Road, Lahore so rush on over there for the best some of the yummiest scoops in all the land.
But also be careful because people are crazy and ice cream is amazing. Love you.
---
Cover image via: sheknows.com