The concept of feminism is no longer alien to most Pakistanis. Some of you embrace feminism wholeheartedly while others choose to remain opposed to basic equality, writing it off as a movement that revolves around world domination for females everywhere. However, for those of you who are feminists, there are certain times when you wish that others around you were feminists, too. Usually, backlash or comments that reek of internalized misogyny can be written off with a sigh of disappointment. However, when those closest to you are the source of opposition, that is when the matter gets hard to handle. As a feminist, you expect other women to root for equality and fight the misogynistic concepts that are deeply embedded in society's framework. However, when someone like your own mother fails to understand the concept, that is when things start to get a little frustrating.
Here are a few instances when you wish your pyaari mama was a feminist:
1. When she comments on your clothes
Every single time your mother complains about the kind of clothes you wear, even if they are within society's code of decency, you wish your mother understood the importance of self-expression through one's attire. You also wish she respected the idea of being comfortable in the way you dressed instead of talking down to you constantly.
2. When she criticizes your make-up
It gets frustrating when your mother says stuff like "laal lipstick sirf shaadi ke baad pehni jaati hai." Those are completely unrelated elements that have absolutely nothing to do with each other. Like it doesn't even add up on a basic level. The worst is when you're told that your make-up makes you look like an aurat, when you are, in fact, an aurat to begin with.
3. When she gives your brother the upper hand in certain cases
Being a feminist, it's annoying to note that brothers, or men in general, rather, get away with a lot. Letting your brother out late in whatever attire he deems fit is fine, but you need to beg to stay out late an extra hour and need a proper outfit approval before leaving. Why?
4. When she keeps mentioning rishtas
"Beta, waqt nikal jayega."
"Beta, larkiyon ko jaldi shaadi karleni chahiye. Settle hona zaroori hai."
Um, okay. Sounds fake but okay.
5. When she keeps pushing the idea that what society says matters
Nothing is more frustrating than your mother telling you to sculpt your life according to society's pre-existing mold for women. Log kya kaheinge does not matter because log will always talk. It's unfortunately what people do.
6. When she actually prioritizes what society says over your beliefs
What's worse is when she cracks down hard on you to be a certain way so that you're not seen as an embarrassment or a rebel by society. You wish she saw through the toxic double standards and the prevalent hypocrisy that exists within society.
7. When she tells you to not be like other girls
Ah yes – the age-old trope on how girls need to act a certain way to be distinguished and placed above the girls who don't conform to those guidelines. You wish she didn't give in to society's idea of divide and rule when it comes to women.
8. When she constantly urges you to be gora chitta
"Fairness cream lagao, beta."
Why can't you be proud of your tanned skin? Why are Pakistanis obsessed with looking like they're not Pakistanis?
9. When she refuses to acknowledge your valid arguments
You hate it when she pulls and Amitabh Bachchan from K3G on you and says, "Keh dia na bas, keh dia." Like, no mama – this isn't a movie. Real life has negotiations and proper reasoning. Aaj kal ke adults bhi na. Bigarh gaye hain movies dekh dekh kar. And if the bas keh dia doesn't work, there's always the imminent threat of the dreaded chappal on which she can fall back.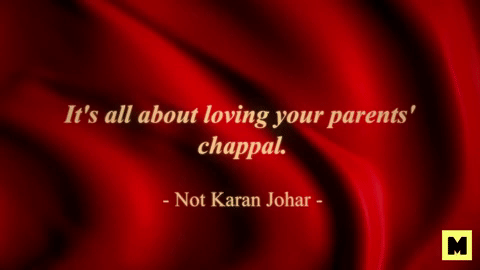 10. When she backbites about other women's daughters
You wish she understood that she would be extremely offended if someone else was doing that to you. You also wish she'd stop picking on other women and their daughters altogether.
11. When she encourages the idea that a woman's main goal is pleasing her husband
It's frustrating when you've put in a lot of effort into studying and all your mother cares about is whether or not you can make rotis and do ghar ka kaam because these are, apparently, the more useful skills. She'll also say stuff like "larkiyon ko ziada compromise karna parhta hai." Mothers – compromise is a two-way street.
12. When she makes you uncomfortable in your own skin
The constant criticism gets a bit much most of the time and can even impact your self-esteem and your sense of self-worth. You wish that your mom could see that she's tearing you down based on what society thinks you should be like instead of encouraging you to be the strong woman you're meant to be.
13. When she directly opposes you being a feminist
The worst is when she constantly dismisses actual reasoning. You will try to explain how internalized misogyny has affected her and shaped her thinking, and she will refuse to acknowledge or change. What's even more annoying is when she says that this is the society you're in and conformation is essential. Whatever happened to standing up for what you believe in?
Without a doubt, life is a struggle when your mom's not on board with the concept of feminism. However, you keep doing what you're doing and keep hoping that one day, perhaps, by some miracle, she, too, will see the light.
---
Cover Image via: Coke Studio/pakhungama.com