You know how Pakistani low-budget advertisement consists of basically just googling any gori chamri wali shakal and photo-shopping (rather, only just using Microsoft Paint) this onto any brochure, flyer, billboard or the like? We're all guilty of seeing Aishwarya Rai on a flimsy brochure and laughed over Justin Beiber's face from the "baby baby baby oh" era on every local billboard for a hair salon or barber. So, it's kinda, sorta, pretty standard.
In today's episode is a henna brand using Alicia Silverstone's face.
Which is…unsurprising. It reads "fauri tez color" (instant deep/dark color) by Afshan sahiba. No big deal, we've all seen it.
Except for the fact that this time, it reached all the way through the seven seas to ALICIA SILVERSTONE HERSELF.
Whoever sent this to Alicia is a total legend, let me tell you that. ???
To clarify, this is Alicia's official verified page and everything. No jokes.
Alicia Silverstone is a face you wouldn't forget if you're a die-hard Hollywood buff from the 90's.
I absolutely loved all her sass in Clueless and while, most of her other movies were a miss or a miss, this one stands as one of the most revered chick flick of all time.
She made fetch happen, guys.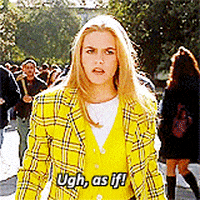 And she also served some HOT DAMN as Batgirl in Batman and Robin back in 1997. 

It was the worst superhero movie ever made and Christopher Nolan basically had to resurrect Batman after this terrible take but hey, Alicia was good.
So anyway, it's funny how Afshan made it all the way but us desis  HAD TO claim our turf. A little rift broke out as Indians and Pakistanis started to claim the ~language~
Someone said it's the INDIAN language. (sir, that's not even a language, all due respect)
But then, this ensued for quite a bit.
As if, all this wasn't enough, this colonial Duke showed up to showcase his mad googling skills. Atta boy. ??????
All in all, it was a good day for the internet.
And Afshan mehndi that not only gave us the giggles but sparked deep nationalism. ?? ??