When Highway released in 2014, it wasn't on my must-watch list. Alia Bhatt was relatively new around that time, and she hadn't fully made her mark yet with Student of The Year. Moreover, on the surface, the movie seemed to be a clichéd love story between a captor and his hostage.
However, what grabbed my interest immediately was the fact that it was written and directed by Imtiaz Ali.
Imtiaz Ali is an enviably brilliant storyteller. Through his trademark idealistic lens, he has managed to make a handful of movies that have left their mark on audiences spread across the globe. It was my curiosity to learn more from his storytelling that made me watch Highway.
That decision altered my perspective greatly.
The film revolves around Bhatt's character, Veera Tripathi, daughter of a business tycoon, who is taken hostage by Mahabir Bhati – played by Hooda – on the night before her wedding, while her fiancé watches the scene unfold, paralyzed with fear. The narrative follows Veera and Mahabir's collective journeys, touching upon numerous important themes in the process.
Highway is not an easy film to watch.
It takes turns being violent – where Mahabir physically assaults Veera to silence her – and uncomfortable, when one of the henchmen tries to play the nice guy card to get inappropriately close to Veera.
Veera's plight, evident as she bemoans her fate, gagged roughly at the back of Mahabir's truck, is goosebump-inducing. 
A particularly powerful scene cements the film's depth. Veera tries to escape in the dark of the night, only to be caught by Mahabir. He tells her to run, which she does. However, as the camera follows a distraught Veera finally making a run for her freedom, the audience is thrown into the same pit of hopelessness as Veera herself. She is in the middle of nowhere – lost, directionless, and absolutely alone. In what can only be called cruel irony, Veera is forced to run back to her captors – her only hope and safe haven at that point in time.
The film then shows Mahabir's henchmen softening up to Veera. Out in the open, away from societal pressures, Veera begins thinking out loud. We see glimpses of the Veera that has always wished to remain on the surface – unabashedly quirky, outspoken, and at ease.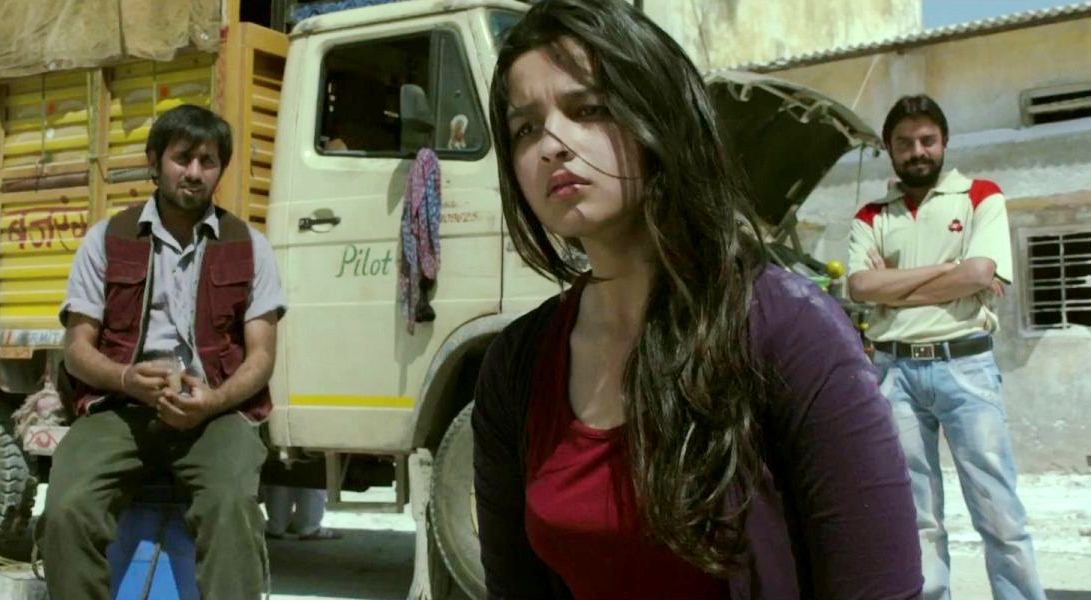 One of the themes that Ali puts forward through his narrative is that of Stockholm Syndrome – a condition where a hostage forms strong emotional ties with the captor.
Time and again, as Veera opens up, she tries to unravel the stoic, bitter and angry Mahabir. Her fear of him fades and she confronts him, trying to break down his walls, overlooking all instances of harshness shown by him towards her.
Mahabir remains a mystery, till a particularly heartbreaking scene takes place. As Veera hums a lullaby to herself, Mahabir is thrown into a black hole of terrifying flashbacks. He is reminded of his childhood – where his father would physically abuse him. Moreover, he is reminded of his mother being dropped off to work as a sex slave, only to return in the morning.
Mahabir's backstory flits across the screen, as a soulful song plays in the background, making the scene a definite tear-jerker.
At this point in time, Ali humanizes Mahabir – a character we struggle to empathize with before this. However, Mahabir is given a backstory – one that explains to the audience why he is the way he's shown to be.
As the film progresses, Mahabir and Veera's journeys continue. The backdrop of the film is inundated by Veera's family attempting to track her down.
At one point, the truck – with Veera bound in the back – is stopped by the police for a quick search. To everyone's surprise, Veera hides from the police. Though the captors and Veera don't realize it then, the audience sees why she does what she does.
It is in this captivity that she finds herself freer than before.
One of the most important scenes in Highway is the one where the themes of sexual abuse and child abuse are highlighted through Veera's narration of the events that transpired in her childhood. 
As she dines with Mahabir, she discusses how her uncle would rape her 9-year-old self. Bhatt shows incredible skill at this point, making the narration all too believable. The way she describes her past in great detail, unable to hold back her tears, is inarguably heart-wrenching. Moreover, she highlights how her own mother silences her.
"Shhh, kisi ko mat batana," Veera says, with a distant look of pain and betrayal on her face.
In that moment, we are a part of that conversation Veera has with her mother. We feel the rage bubbling inside ourselves at the silencing of a 9-year-old. We are made to feel Veera's pain.
Through this highly necessary and remarkably impactful scene, Ali gives a face to sexual assault and child abuse. It is no longer just a story we hear.
We are made to sit through this uncomfortable narration. We are made to feel uneasy. Moreover, we are made to realize that this is the face of reality in our society as well. Veera's story is not uncommon. It is merely one that is brushed under the carpet, too taboo to discuss in the open. It emphasizes on how sexual abuse sees no caste, creed, social stature or kinship.
Predators roam free among us. Some of them have the same blood running through their veins as we do.
Here on out, Mahabir and Veera's relationship takes a turn. He softens up to her – to the point where he eventually sets her free. However, she returns to him. She's found a life away from the suffocation of societal pressures, away from being silenced, to the point of repression. They travel together, eventually finding her dream home in the mountains.
Together, they believe they've escaped their haunting pasts.
Ali doesn't allow the audience to ease into this belief for long, though. The search parties catch up with them, retrieving Veera and fatally injuring Mahabir in the process. 
This, alongside her family keeping her medicated, contained within her room, push Veera to her breaking point. Her family, much like before, pretend like nothing happened. But it did. A lot happened. A new Veera had been born. One that refuses to hold back. The absolute rise in dramatic action is shown through Veera's final explosion – one where she confronts her rapist at a gathering and puts her foot down. It would be a disservice to you, as readers and to the film itself, to not include that scene in this analysis.
Highway is, by all means, a movie that demands to be watched. 
Not only is it a movie that touches upon issues that are almost never talked about, it presents them in a way that tears at pieces of our hearts. Ali achieves something that is incredibly difficult to carry out through a film – he manages to instill and evoke empathy in the hearts of the audience.
A report titled Cruel Numbers 2016 was compiled after gathering data from 86 national, regional and local newspapers. This report stated that 4,139 children were sexually abused last year in Pakistan.
Moreover, it was also found that the highest percentage of the most vulnerable age group for both sexes was between 11 and 15 years. The second most vulnerable age bracket fell between 6 and 10 years.
These statistics are, undoubtedly, harrowing. Highway gives a face to those statistics.
It puts forward the narrative of sexual abuse cases before the audience, voicing their pain. Ali takes these hidden stories out of the darkness and presents them on a big screen, using his platform to raise awareness around this grave issue.
Highway is not a film that preaches morality. Instead, it takes our existing morals, holds a mirror to them and leaves the audience wondering: have we been the ones who have been wrong all along?
---
Cover image via: Nadiawala Grandson Entertainment