Adnan Siddiqui has been one of the most iconic celebrities in Pakistani TV. He has been a part of the industry for the longest time and for those of us who've grown up seeing him in our dramas relate to him A LOT. The fact that he's such a phenomenal actor just adds on to this charm.
Adnan Siddiqui posted a letter to his three children this morning and its the best thing you'll read today
He starts out with talking about losing his mom, and how his older siblings all got together to fill the void she left behind in his life.
"She turned her head to the left, where I stood, and smiled with her eyes. She then closed her eyes. For the last time.
Decades have passed. But that moment remains, to date, one of the most painful and most formative of my life. After Ammi died, your taayas and phuphos rallied around, like an army of soldiers, to look after Uzi phupho, Ayesha phupho and me–the youngest three."
He goes on to say that he's glad that he grew up in a big family. In fact it was so big that it was almost a cricket team of its own.
"We grew up playing cricket in the streets–young, old, fat, thin, bespectacled, sporty, the whole lot."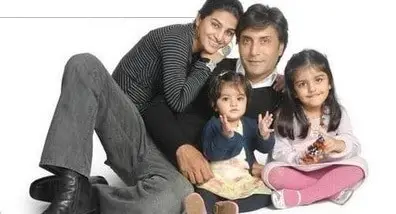 "The cricketer: Adnan Siddiqui. The commentator: Adnan Siddiqui. Fielder: Adnan Siddiqui. Bowler: Adnan Siddiqui.
'And it's a six. What a beautiful shot! Hitting it out of the park!'
'Aaaand here comes Siddiqui. What a natural out-swinger. What a smooth run-up!'
'He's caught it! And he's out! The relief, the joy! Siddiqui never misses a catch!'"
He was able to cop with loss of his mother because he had distractions at hand
"This is just a little note to say that I know you love your ipads and ipods and play stations, but I want you to also love your parks, your books, your streets. They can be your friends too.
It's a shame that our streets are not as safe as they once were. It's a shame the three of you can't hold hands and walk serenely out of the house. It's a shame, indeed, that the Karachi of my childhood has disappeared as skyscrapers and multiplexes have come to dominate the skyline.
But you can still read books. Just as I used to play imaginary cricket in four different voices, I want you to live inside the pages of your books. The truth is, people who talk to themselves aren't stupid: they're the opposite–creative and wild and beautiful."
But the best part of the letter is the ending. He celebrates the creative side of life, and encourages his kids to embrace it. 
"The truth is, people who talk to themselves aren't stupid: they're the opposite–creative and wild and beautiful. Just like the three of you."
People were over the moon he wrote his letter
And he was appreciated for pouring his heart out
Here's Adnan's letter to his children, in its entirety
Adnan sahib, thank you for writing this amazing letter and giving a voice to us, the crazy creatives and the people who talk to themselves all thank you.