In the 70 years of Pakistan's history, we have seen many heroes. These people have done outstanding work and have spent their lives working for the people of Pakistan. One of the prime contributing personalities has been Abdul Sattar Edhi. He spent all his life helping the downtrodden. He took in all those who didn't have anyone to call their own.
A man of great dedication, Edhi Sahab put his blood and sweat into his humanitarian mission.
Understanding the importance of Edhi Sahab's contribution to the society, Academy award-winning Pakistani filmmaker Sharmeen Obaid has started "Stories For Our Children".
Produced under SOC Flims, "Stories for Our Children" is a new YouTube miniseries that aims to teach kids about our national heroes. In its first ever episode, the story of Abdul Sattar Edhi is narrated from the perspective of a young girl living in a remote village.
The story is set in 1958 when Edhi Sahab visits this girl's village in his ambulance.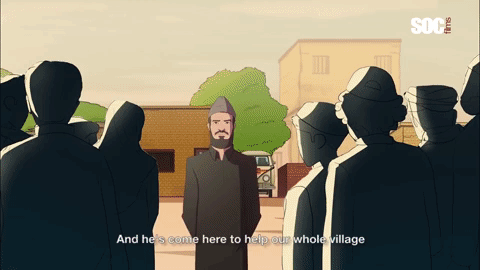 The girl has an injured leg and is resting when a boy comes in and informs her of a visitor in the village. Her village doesn't usually get any visitors so everyone is gathered outside for this man. Upon asking, she finds out that that man is Abdul Sattar Edhi.
Upon seeing the ambulance, her father tells Edhi Sahab everything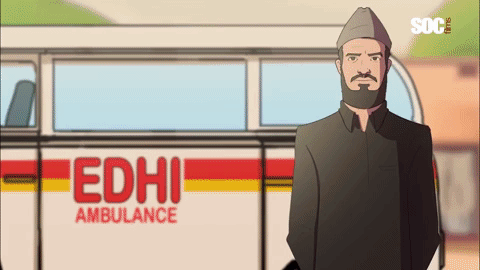 When the father tells Edhi Sahab about his daughter's injury, he turns to his ambulance and hands the father some medicines for her. This peaks the girl's interest in that man and she tries to take a look inside the ambulance.
The girl, in her innocence, gives all the money she has to Edhi Sahab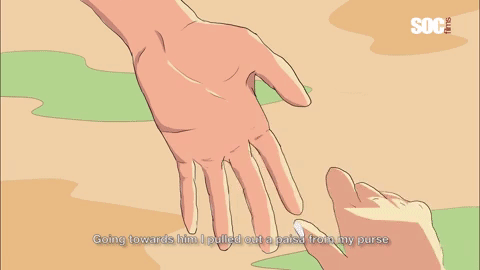 The girl looks for some money inside her purse and only finds one paisa. She hands it over to Edhi Sahab and tells him that she wants to buy his ambulance. And for that, she's willing to take a loan from her father.
Upon asking, Edhi Sahab tells the girl his life story.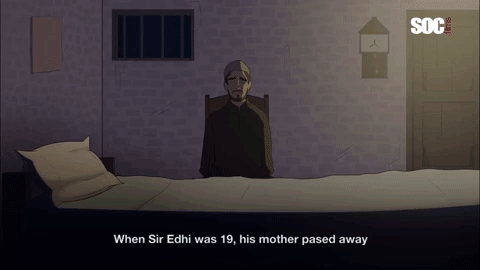 He tells the little girl that he was born in Bantva, India and how he lost his mother at the age of 19. His mother spent most of what she received from his father on helping the poor. This inspired him to do the same. As he moved to Karachi and started working in a cloth shop, his passion to help the poor still remained.
To help the poor, he joined a local community organization.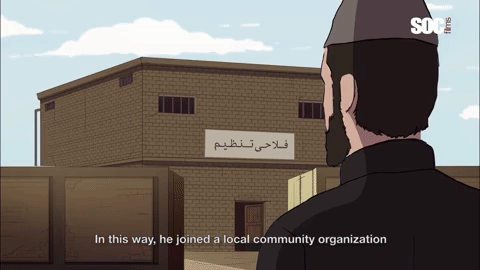 His passion for helping the poor made him join the local community organization. He did this so that he could help everyone but little did he know that the organization volunteers didn't like that he helped people outside of their community as well. Edhi Sahab didn't like this at all as he was a firm believer in inter-faith harmony. So he left the community organization and opened up his own dispensary where he provided the poor with free medicines.
Later on, he also started the Edhi Ambulance service, which is now the world's largest volunteer ambulance network. His dispensary and ambulances helped people regardless of their religion, color or caste. When people asked him about him helping out Hindus and Christians, he said that his ambulance was more Muslim than them.
In the end, Edhi Sahab returns the paisa to the girl.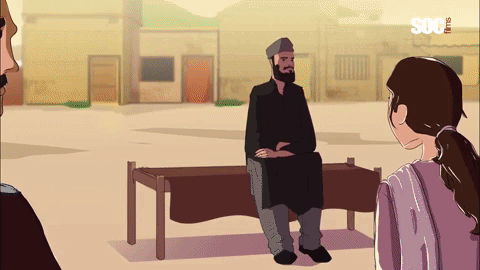 The girl's heart-touching gesture was what mattered the most. Edhi Sahab returns the money to the girl and tells her to give it to the poor. This is coming from the man who has only owned two sets of clothes all his life. The man who lived, with his wife and kids, in a tiny apartment. The man who never took a salary from his organization yet, single-handedly, changed the face of welfare in Pakistan.
Take a look at the beautiful video yourself.
This is the complete first episode by SOC Films available on YouTube. A great initiative indeed, this web series must be shown to the new generation so that they don't forget about those who shaped the very present they live in. With three more episodes coming up, this series will cover more heroes like Aitzaz Hasan.
So, what do you think about this? Do you think there should be more series and initiatives like this one? Let us know in the comments below!
---
Cover image via SOC Films