This article takes place in the year 2000. Pakistan has just been hit by a wave of good music. And there's a new band on the horizon: entity Paradigm.
People are skeptical because nobody was ready for the music they were making. I don't even think the band themselves realized that they were about to give birth to a music revolution in Pakistan. It was, also, at that point where women all over the country fell in love with the boy-next-door, angsty frontman of the band: Fawad Khan. Now, at that point, Fawad Khan was Fawad Afzal Khan and that's still what I'll call him, no matter what happens. Fawad Afzal Khan quickly took over everyone's screens and women left, right, and centre were melting over this young man with a baritone voice and that adorbs accent.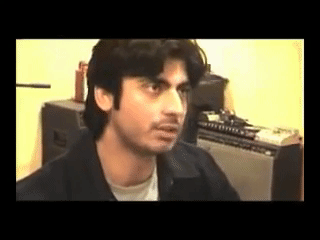 The first eP single to drop was Humein Aazma, which was also the soundtrack for Jutt and Bond (starring Fawad Afzal Khan and Ahmed Ali Butt).
eP was an 8-member band that came into being after two bands, Entity and Paradigm, joined forces, and from then on, they were unstoppable. Once eP began doing regular shows, headbanging became the coolest thing to do and, of course, with Fawad doing it, even girls jumped on board.
Regardless of the neck sprains the next morning, everyone was headbanging, parents were pareshaan, and teenagers were having the times of their lives with this newfound outlet for their angst. Fawad fronting eP was possibly one of the best things to happen to the Pakistan music industry.
Because not only could he sing like the rockstar that he is, he could also sing those heart-wrenching that made you tear up in a second. Rahguzar, Barzakh, and Aghosh were deep enough to send shivers down anyone's body. Irtiqa III, thanks to Fawad's low tareen voice, is so dark it might just send you into another zone altogether. Things began to change when Fawad increasingly started appearing in dramas and music took a backseat for him
And then eventually he stopped making music altogether. While it was sad for those of us who loved his music more than anything else in the world, we were glad that more and more people were getting to know the magic of Fawad Afzal Khan.
And then came a point when Fawad excused himself from the music scene altogether, except for snippets during movie promotions and the likes. We now know him as THE Fawad Khan but there was a time, that some of us still miss the original Fawad Afzal Khan.
And I never thought I'd say this but we miss you, Fawad – the old you. Kubhi gaana hi gaa diya kero, yaar?
---
Cover image via: desimartini.com