Fashion is a constantly changing. Sometimes the change is really extreme and trends come and go within a year. We thought it would be interesting to compare the trends of 2008 to the trends of 2018, just to see how far we've gone in these 10 years. Thinking about this now, it would be quite hilarious to see if we've come full circle and the same trends are back…
2008 was a big year for Pakistani Fashion. 
After many years of nothing happening on the fashion scene, this year represented a rebirth for the industry. Pakistan was seeing its first ever fashion weeks happening after ages and this was exciting designers and design houses since they finally had a stage to showcase their work on. The fashion weeks that exist today did not exist in 2008, however, there were smaller level shows beginning to pop up, as well as individual trunk shows.
Back then, the trend of the time was definitely long shirts, with multiple pattis and extra borders, and shalwars were officially OUT. 
(Yes, we know this photo is pretty extreme, but 10 years ago there was no Instagram, and good photos from 20018 were really hard to come by)
Frocks were also really big at that time. The top half of the outfit would be really busy, and the rest would be plain, with kaam at the bottom, creating a frock effect.
There was a lot of experimentation happening with clothes, and all sort of kaam and color were being employed in fashion design. At this time, the culture of 'ready to wear' clothing was still developing and wasn't as large as it is today.
Fast forward to 2018 and stuff has changed quite a bit. 
Shirt lengths are sort of all over the place. Long shirts definitely made a comeback this year, however, they weren't able to totally kick out the short shirt from the face of Pakistani fashion.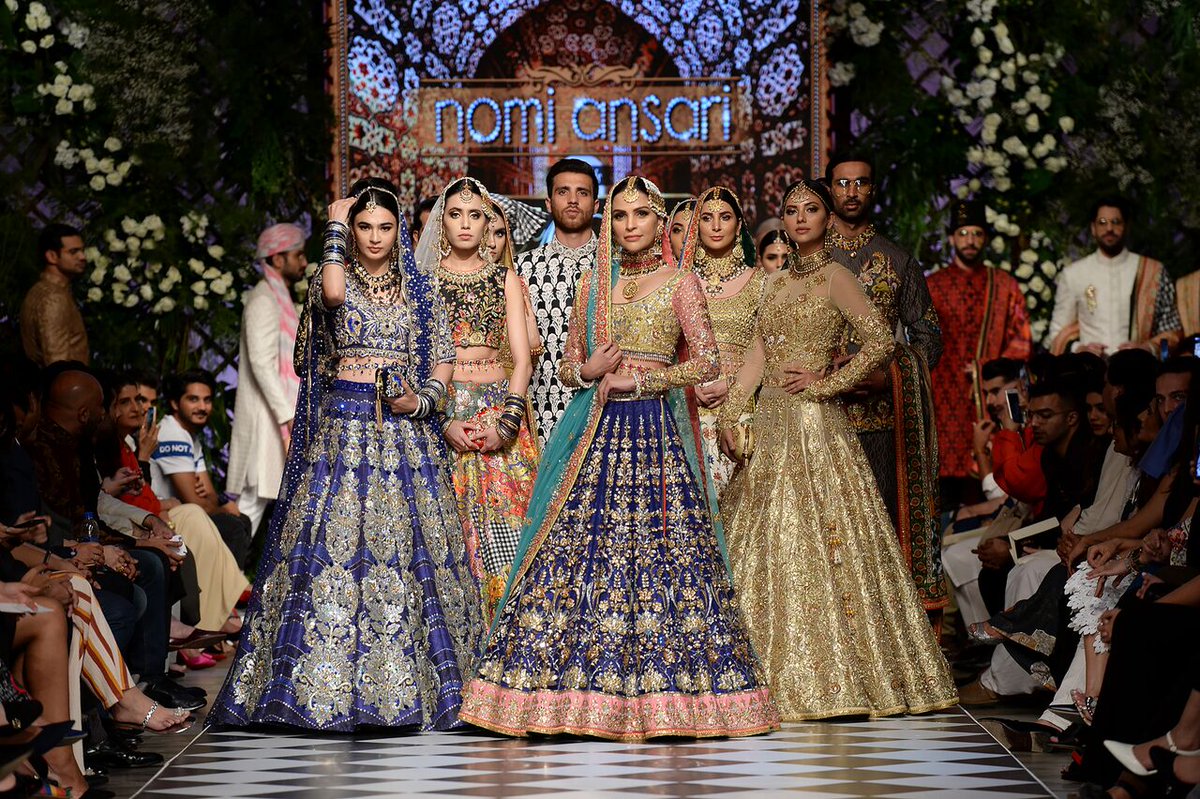 Also, shalwars are back in, as are ghararas and shararas. 
You could say that a lot of things are IN this year.
There has clearly been a return to old world charm and the old world aesthetic. 
A word often thrown around by the fashion world this year was 'heirloom' pieces. This basically means that pieces are made to last, made to last generations, basically, the whole story of 'nani jee ka dupatta.' 
In 2008, we didn't really see a 'color of the year', however, 2018 had a very clear trend, colorwise.
Pastels reigned S U P R E M E this year and were visible in almost every season; bridal and lawn!
Over these 10 years, the fashion industry has learned a lot. It's stuck true to its Pakistani heritage while incorporating lessons from the West. Also, we almost came full circle in terms of trends. This just goes to show how unpredictable fashion can be sometimes. This fusion has really shot our industry to new heights and hopefully, it keeps going.
Cover Photo Courtesy: Nickie Nina // The Pink Tree Company